E M Bartlett Homes
Nantucket Vacation Home Rentals
Contact Paul Merrithew at ACKrentals3@aol.com
or call 603 673-6869

8 Gardner Street Rental in the Town of Nantucket

Eight Gardner Street is located a block from Main Street around the corner from the famous Three Bricks. It is a short walk to the heart of downtown Nantucket with its many fine restaurants, unique shops and art galleries. Walk to the Whaling Museum, Jettes Beach for swimming or Nantucket Harbor to watch the boats.

Eight Gardner Street is an antique building completely renovated on the interior in 1992 to create a spacious, well decorated, two bedroom, two bath home with outdoor shower and brick patio. This Greek Revival style building has an interesting history. It was used, at different times, as a tailor's shop, as a meeting place for the Women's Christian Temperance Union, as a neighborhood A&P grocery store when the front was painted a bright red in the 1920s, and then for several decades it served as a Christian Science Society meeting hall. The oversized antique front door and the large 20 pane store windows are reminders of this building's past uses, while inside this lovely home are found modern conveniences for comfortable living.

Living Room with Cathedral Ceiling (Note the oak spiral staircase with open risers.)

Come stay at Eight Gardner Street for a relaxing vacation that can be enjoyed in the quiet of a private Nantucket home.
Queen bedroom on first floor with back door to outside shower. Adjacent to full bath and laundry.

Brick patio with table,chairs and grill French door leads to dining room.

Dining Room with seating for six.

Second floor twin bedroom with TV

Adjacent private bath with glass corner shower.

Kitchen new in 2012 with granite counters.

E M Bartlett Homes
Nantucket Vacation Home Rentals
Contact Paul Merrithew at ACKrentals3@aol.com
or call 603 673-6869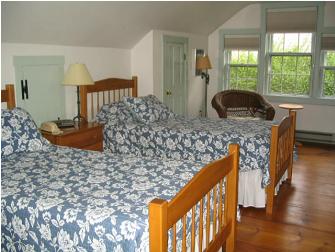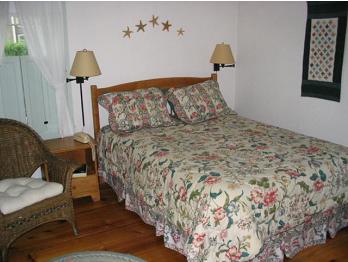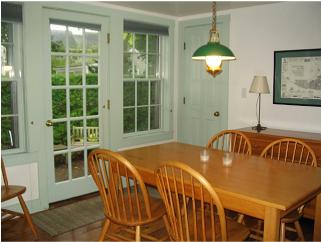 - sleeps four - 2 bedrooms - 2 baths - outdoor shower - walk to downtown (5 to7min)
- central air and heat - WIFI - bed linens - bath and beach towels
- fully equiped kitchen - washer and dryer - parking for 1 vehicle
- outdoor table on patio - charcoal grill - small yard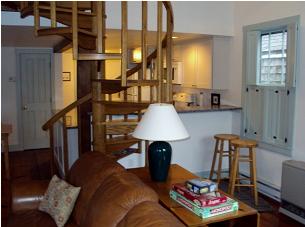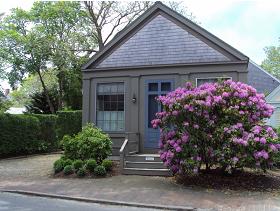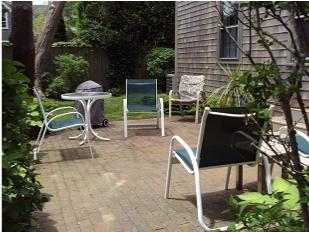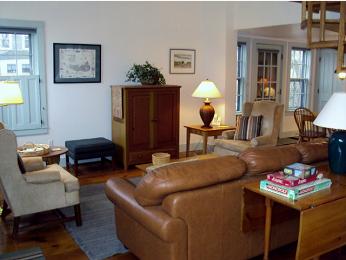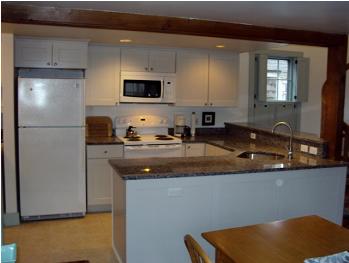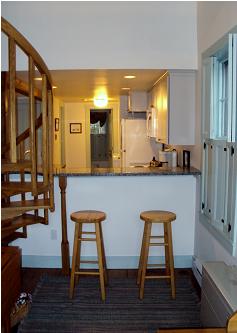 Seating at kitchen bar. Laundry area is beyond kitchen.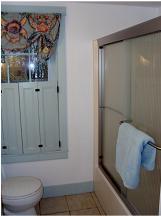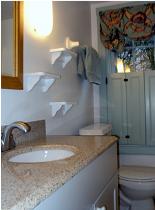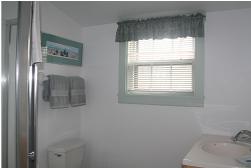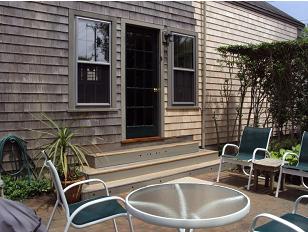 First floor bath with shower/tub.

Patio and small yard surrounded with hedge. Outdoor shower in back.