E M Bartlett Homes
Nantucket Vacation Home Rentals
Contact Paul Merrithew
at ACKrentals3@aol.com
or call 603 673-6869

History of 4 and 8 Gardner Street, Nantucket, Massachusetts

A Brief History of Four and Eight Gardner Street Properties:

Four Gardner Street, built in 1824 for Caleb Allen, is a fine example of the Quaker influenced architecture of Nantucket. The two and a half story, four-bayed front, with central chimney and cedar shingles graying naturally in the salt air, are the characteristics of a traditional Nantucket house.

Eight Gardner Street is a Greek Revival style building with pilasters at the corners and a pediment façade. It was moved from the front yard of 4 Howard Street in the 1800s.

William Bartlett, Paul Merrithew's grandfather, left the family farm to live in town and pursue the life of a fisherman. He bought Four and Eight Gardner Street in 1904 to meet the needs of his growing family. Four Gardner Street was the residence. Paul's mother, Lillian, was born there in 1907. She was the youngest of eight children. Eight Gardner Street was used for storage or rented through the years to serve as a shop for a tailor, the headquarters for the Women's Christian Temperance Union, the neighborhood grocery store for the A & P (when the front was painted a bright red), and the meeting place for the Christian Science Society. Eight Gardner Street was converted to a residence in 1992.
Next to Eight Gardner Street, on the corner of Gardner Street and Howard Street, is the Fire Hose-Cart House, built in 1886. After Nantucket's Great Fire of 1846, several structures like this were built around the town of Nantucket to house hand-pumped hose-carts to allow volunteer firefighters to respond quickly. This historic building, the last structure of its kind, was donated by Edith M. Bartlett (Paul Merrithew's Aunt Ede) to the Nantucket Historical Association to serve as an exhibition room for antique fire equipment.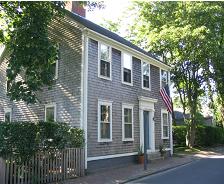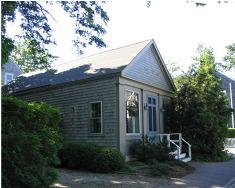 E M Bartlett Homes
Nantucket Vacation Home Rentals
Contact Paul Merrithew
at ACKrentals3@aol.com
or call 603 673-6869